Dignity Health Mercy Medical Group and Dignity Health Woodland Clinic have been awarded Elite Status from America's Physician Groups (APG), the nation's leading professional association for accountable physician groups. The medical groups are two of just 72 organizations nationally to achieve Elite Status (the highest recognition) in 2022.
Elite Status is earned through participation in APG's Standards of Excellence Survey, which evaluates the coordinated care infrastructure and value-based care performance of the organization's physician group members.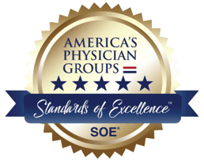 APG's membership currently includes more than 335 medical groups and independent practice associations (IPAs) across the United States and Puerto Rico. To achieve Elite Status, organizations must receive five-star ratings in five publicly reported domains: Care Management Practices, Information Technology, Accountability and Transparency, Patient-Centered Care, and Group Support of Advanced Primary Care.
This is the ninth year in a row that Dignity Health Mercy Medical Group has received APG recognition. They received Excellent Status in 2013 and have received Elite Status every year since 2014. This is Dignity Health Woodland Clinic's fifth Elite Status APG recognition. 
"Dignity Health Mercy Medical Group is once again honored to be awarded Elite Status for our work to exceed national standards when it comes to quality, patient experience, and accountability," said Alan J. Shatzel, DO, MBA, CEO of Mercy Medical Group. "We are honored to earn top marks from APG and to be recognized for the care we're providing our patients."
"We are thrilled to once again be recognized for our work to deliver high-quality, coordinated care," said Karen Hopp, MD, CEO of Woodland Clinic Medical Group. "Receiving this recognition is a direct result of the collective effort from our entire care team to put our patients at the center of everything we do."