It is officially very very cold outside (hello Canadian winter!) but luckily I have a fix; this Golden Turmeric Tonic. This warm and cozy drink comes together so easy and is the perfect hot drink for when you need to warm up with something healthy or fight off that nasty cold.
What does turmeric do in the body?
When you start to feel under the weather this is a great little remedy to make yourself (or someone else) feel a little better. Turmeric (part of the ginger family) is known as an antioxidant and for reducing inflammation in the body thanks to the polyphenol curcumin.  Turmeric, on its own, isn't highly bioavailable, but there are foods that can enhance this such as black pepper.  Peperine, found in black pepper, helps activate curcumin. The black pepper may seem like a strange thing to add to a hot drink but trust me it's so good and gives it a little kick!
What benefit does ginger provide?
Ginger is notorious for helping fight colds combating nausea. Ginger contains diverse bioactive compounds and acts as an antioxidant with anti-inflammatory and antimicrobial properties. Ginger may help soothe nausea and in this hot tonic, it may help a scratchy throat feel better together with the honey. We also added in a slice of orange to increase the citrus flavours and were a fan but you can leave it out if you don't have any on hand. A little extra vitamin C during cold season doesn't hurt.
As a little heads up,  you'll want to be a little cautious when you make this because the turmeric STAINS (speaking from experience lol). If you have anything white, including your counters, you'll want to be careful you don't spill or make sure you wipe it up immediately.
I decided to try to eat raw turmeric root one evening after a long photo shoot and a glass of wine (ok maybe more than a glass).  I can't say that it was particularly enjoyable on its own (big surprise), but the best part was discovering my new yellow/orange front teeth when I finally looked in a mirror.  Wow.
Many grocery stores now carry turmeric root. Try out Choices or Nature's Fare Markets here in Kelowna, or stores such as Whole Foods will carry it as well.  It looks like a skinny finger-like version of ginger with a bright orange flesh.
For another cozy winter drink I recommend making this Homemade Apple Cider, or if you need a little something more refreshing try this Orange Julius Smoothie! If you're suffering from a cold try making this Cheater Chicken Noodle Soup to feel a little better with very little effort (because who wants to slave over a stove when you're sick?).
Golden Turmeric Tonic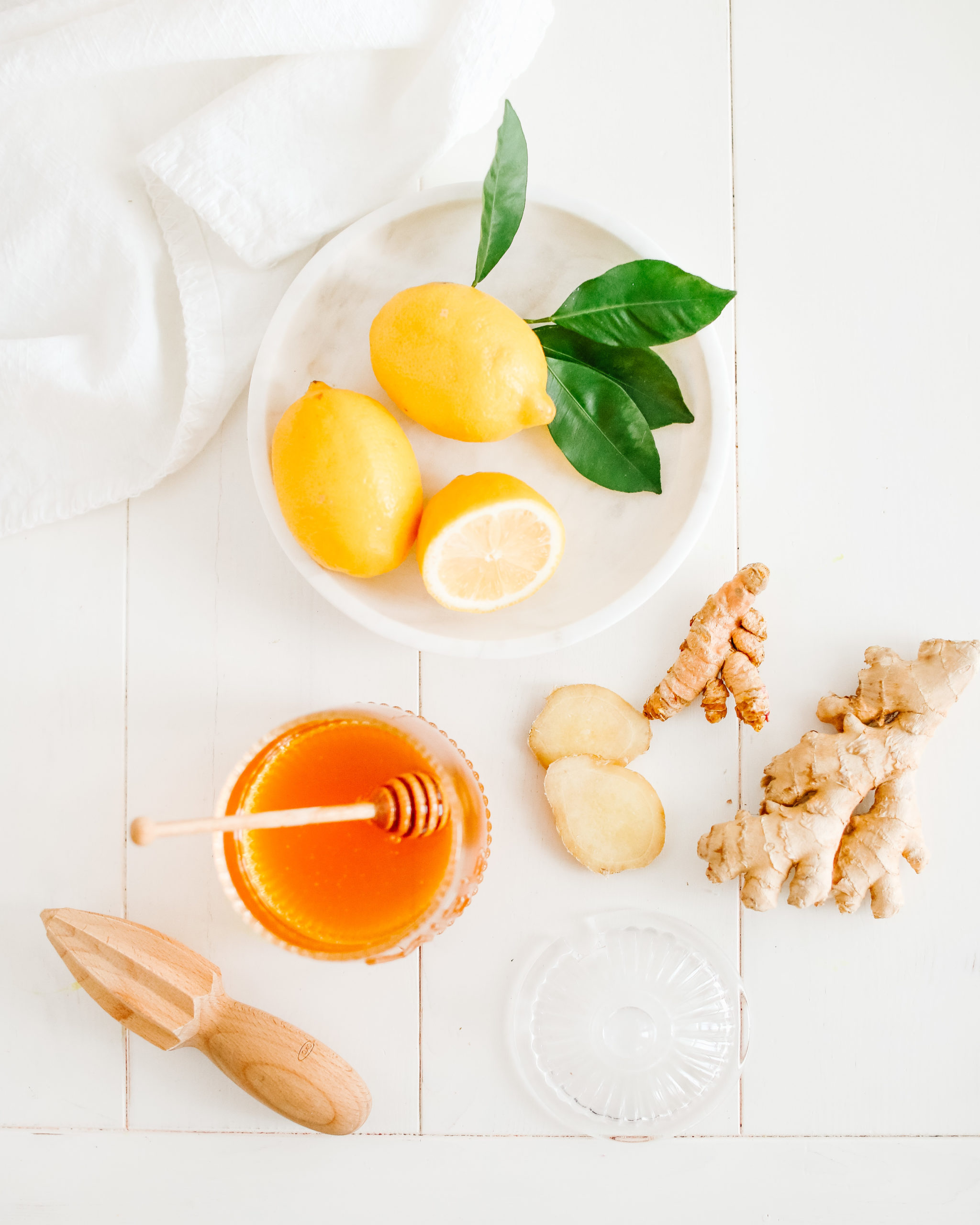 Golden Turmeric Tonic
Chock full of good ingredients, this tonic not only tastes good but is good for you too.
Ingredients
1

teaspoon

grated fresh turmeric

1

teaspoon

grated ginger

1

tablespoon

honey

3

lemon slices

1

orange slice

(optional)

2

cups

water

1

pinch

black pepper
Instructions
In a small pot combine all ingredients and simmer for 5-10 minutes. Divide between two mugs are serve!