I love to roast large hunks of meat.  It's easy and quick to prepare, the meat lasts several nights (yay for leftovers!), the meat is usually much cheaper per pound than more labor intensive (by the butcher) cuts, and roasts are delicious!  This is my favorite way to cook a pork loin roast, which is surprisingly lean.  I typically buy conventional pork loin because it is so lean (at least until I can afford to eat pastured meat exclusively!).  I like to buy the whole tenderloins at Costco (typically around $2/pound) and butcher them myself (takes about 5 minutes to cut it into three 3lb roasts which I pack in large ziplock freezer bags and then toss in my freezer).  I also usually skip the optional step of "marinating" the pork since I don't typically plan that far ahead.  If you are thinking ahead though, it is worth it!
If you don't have fresh rosemary and thyme, you could substitute a scant 2 Tbsp of Dried Whole Leaf Rosemary
or Dried Whole Leaf Thyme
for each.
Paleo Principles
200+ Healthy and Delicious Recipes
20 Meal Plans for a variety of goals
Step-By-Step Guides
I LOVE this book. The science is awesome. I've learned a ton without feeling overwhelmed. The paleo principles just takes my understanding to the next level!!!

Janet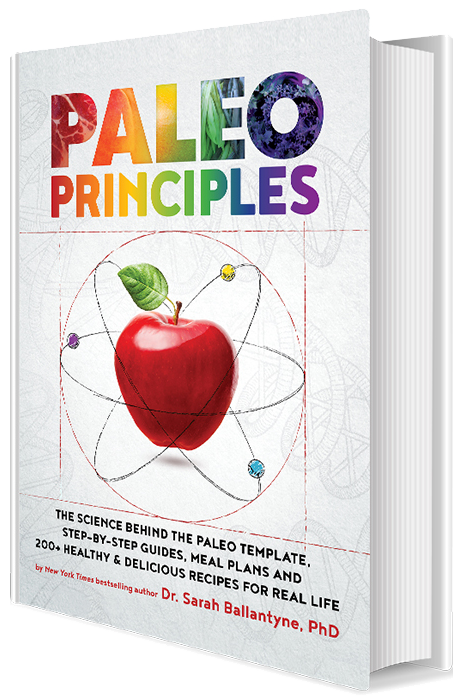 Ingredients:
3-4 lbs pork center loin or sirloin
2 large sprigs fresh rosemary (about 2 Tbsp chopped)
10-12 sprigs fresh thyme (about 2 Tbsp chopped)
½ tsp Salt
½ tsp cracked Pepper
8-9 cloves Fresh Garlic
2 tsp lemon zest
½ tsp Paprika
1.    Preheat oven to 350F.
2.    Blend spices in the small cup of your Magic Bullet
or a small Food Processor
. If you are using entirely dry spices, you could blend in a Spice Grinder
.  Alternatively, you could chop extremely fine and then grind in a mortar and pestel.
3.    Rub spices evenly over entire roast (if you don't quite have enough for an even coat over the whole roast, focus on the top of the roast, which should be the side with the fat cap).
4.    Optionally, you can wrap the roast in plastic wrap, place in your fridge, and let "marinate" for a few hours or even overnight.
5.    Place roast fat side up on a roasting pan.  Cook for 20 minutes per pound, until internal temperature reaches 160F.
6.    Remove roast from oven and let sit 5-10 minutes before serving.  Enjoy!