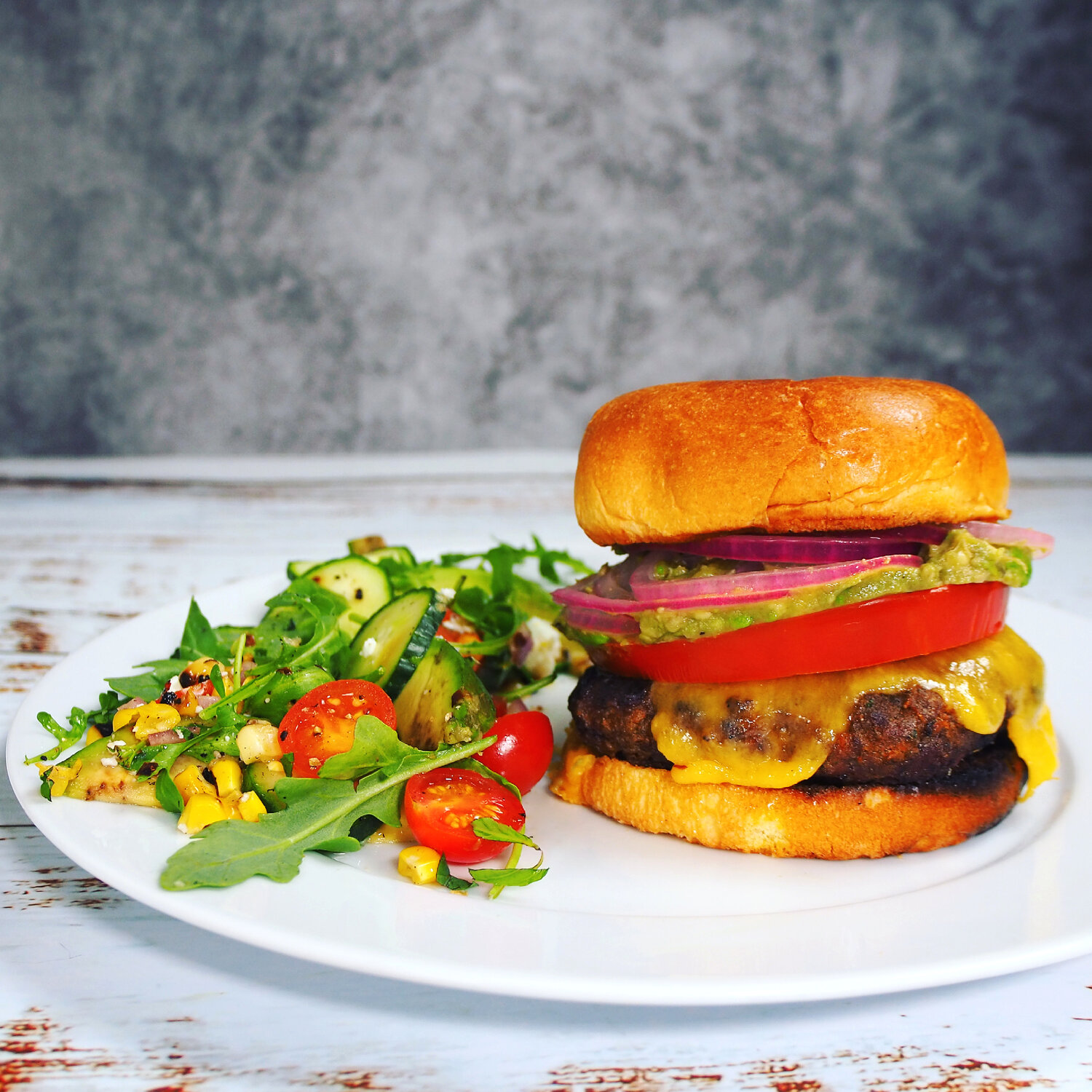 I hope everyone's Fourth of July weekend is going amazing!
Adrian and I have been grilling up a storm and that means we're cooking with Australian grassfed beef. We decided to make these Aussie burgers a little tangy with pickled red onions, a little smooth with guacamole and cheddar cheese, and also a little spicy because – well, that's what our taste buds love! The flavors of this burger are out of control and are all thanks to sustainable Australian grassfed beef because it always ups the ante on our go-to grilling favorites, from burgers, to steaks, to skewers and tri-tip. 
While burgers always steal the show when it comes to cookouts, this salad deserves some serious accolades as well – it's so fresh, so sweet, and oh-so-perfect for summer.
To find out more about Australian grassfed beef, which is high-quality, nutritious, and better for the environment, check out True Aussie Beef and Lamb's website!
Australian Grassfed Beef Burger with a Summery Corn & Avocado Salad
Time: 40 minutes
Serves 4-6
Australian Grassfed Beef Burger
½ small red onion, thinly sliced
3 tbsp fresh lime juice, divided
2 large ripe avocados, pitted, skin removed
3 tsp garlic, finely chopped, divided
Kosher salt
Freshly ground black pepper
1 lb Australian grasssfed ground beef
1/2 cup bread crumbs
1 egg
1 tbsp chili powder
½ tsp cumin
4 slices sharp cheddar cheese
2 medium beefsteak tomatoes, sliced
4 brioche hamburger buns, lightly toasted if desired
Summery Corn & Avocado Salad
½ red onion, finely diced
2 cups fresh corn kernels
3 tbsp fresh lime juice
¼ cup extra virgin olive oil
½ tsp ground cumin
¼ tsp kosher salt
1/8 tsp freshly ground black pepper
2 large ripe avocados, pitted, skin removed, cut into thick slices
1 medium English cucumber, thinly sliced
½ pint cherry tomatoes, halved
2 cups baby arugula leaves
¼ cup mint leaves, roughly chopped
2 ounces queso fresco, crumbled
1/8 tsp red pepper flakes, optional
Directions
In a small bowl, combine red onion with 1 tbsp lime juice. Set aside and allow the flavors to meld.
Add avocado to a medium bowl with 2 tbsp lime juice, and 1 tsp chopped garlic. Gently mash into guacamole with a fork until just combined. Season to taste with salt and pepper.
Prepare the salad ingredients by combining the red onion, corn kernels, lime juice, olive oil, cumin, salt, and pepper in a medium bowl. Add avocado slices to a large platter, followed by the sliced cucumbers and tomatoes. Season with salt to taste.  Arrange arugula leaves on top of the vegetables. Finally, spoon over the corn mixture and garnish mint, queso fresco, and red chili flakes, if using. Transfer to the refrigerator until ready to serve.
Preheat grill over high heat.
Combine the Australian grassfed ground beef in a large bowl with 2 tsp garlic, breadcrumbs, chili powder, cumin, ¾ tsp salt, and ¼ tsp freshly ground black pepper. Divide the beef mixture into four equal portions and shape into patties.
Add burger patties to the grill and cook until the internal temperature reaches 135°F for medium-rare or 145°F for medium, about 5-7 minutes. Transfer to a plate.
Arrange the Australian grassfed beef patties over brioche buns. Top with cheese, tomato slices, guacamole, and pickled onions. Serve on plates with the corn and avocado salad. Enjoy!